How to send a fax with Reliable PBX (EMAIL TO FAX)
To send a fax, send an email to fax@rpbx.us

In the subject line, enter the phone number you wish to send the fax to (The number must be 10 digits and do not enter dashes, dots, or spaces) and attach the PDF. This fax service can only accept PDF attachments.
Please note: Faxes can only be sent from the email or email domain that was registered. Only the PDF gets sent. Any other information in the email does not get sent.

The outbound fax should appear as follows before sending: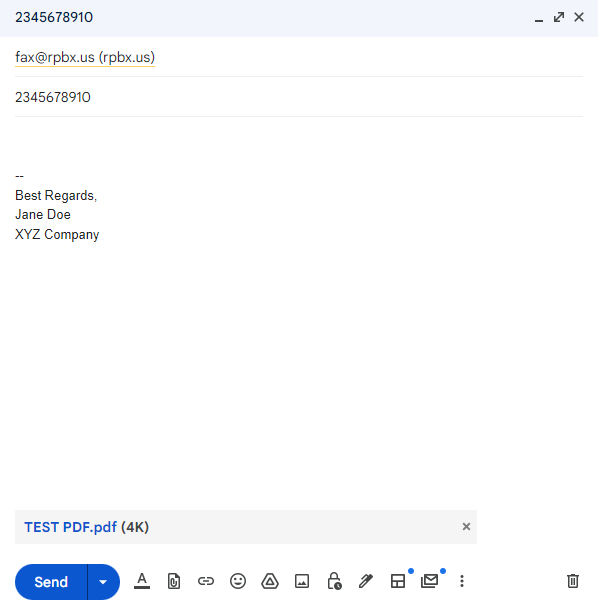 Related Articles

Reliable PBX Feature Codes

Forward Call to Cell While Ringing Desk phone With this feature you can turn on call forwarding to a number and have it simultaneously ring your desk phone. To set the number you would like to forward to, Dial *14 followed by the phone number that ...

Reliable PBX Feature Codes

Go Straight To Voicemail With this feature you can get to someone in your company's voicemail without having their phone ring. Dial * followed by the extension you want to leave a voicemail. You can also forward a call to the voicemail directly with ...

How to change your password on the Reliable PBX app

Please log in with the newly generated password one of our agents has sent to you and follow the below steps to update to your liking: 1) Click the following symbol on the bottom right corner of the desktop and mobile app: 2) Select "change ...

Cannot chat with Reliable PBX

Please check your firewall and filters to make sure the following URL's are unblocked. https://css.zohocdn.com/* *.zohopublic.com/* https://js.zohocdn.com/* https://salesiq.zoho.com/*

Downloading the Reliable PBX Desktop App

Here is the link to download the desktop app: https://reliablepbx.com/download-now/ For notifications: You will only receive pop up notifications for chats and calls while the app is running. Please ensure you minimize the app after logging in to ...